Cream of tomato soup recipe is one of those recipes naturally packed with super foods.
There is nothing exotic here, all the ingredients are probably already on your pantry.
Why are tomatoes good for you
There are some miracle or more popular lately called super foods or functional foods in the world. I call them like that not only because they are so healthy and full of enormous nutritional value, but because they are full with some really wonderful magical flavors.If you, in a garden have ever picked with your own hand a real, warm, ripe, fragrant, fresh tomato, you know what I am talking about. It is a pure wonder how nature managed to create this wonder fruit. Needless to say tomatoes are one of my very favorite foods ever and tomato meals and soups are just making them even more exciting.
In addition tomatoes are full with the powerful antioxidant lycopene, which is known for reducing the cancer and heart disease risk. When tomatoes are cooked on low heat the lycopene levels are significantly boosted. Tomatoes also contain some other wonder elements, like vitamins A and C, folic acid, Alpha-lipoic acid and Choline.
For those who worry on the cooking process, of course this is easy, vegan tomato soup, super healthy and quick to make.
There is nothing complicated in the creamy tomato soup, in fact there are just few easy to follow steps.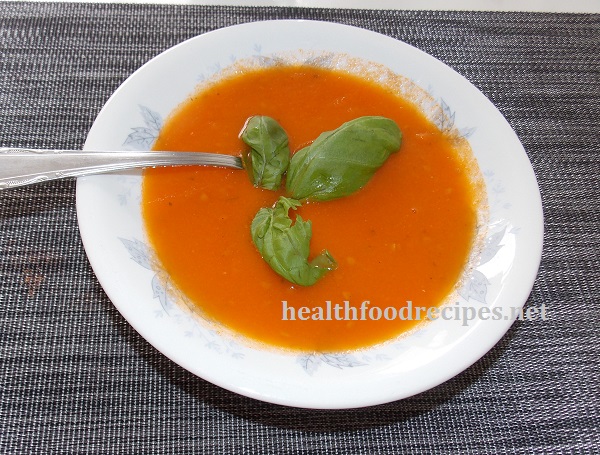 What you need to cook tomato soup
Here are all the products you will need to make this cream of fresh tomato soup recipe from scratch:
5-6 large ripe tomatoes (the taste of this soup heavily depends on the tomato quality, so pick the best and tastiest tomatoes that you can find, if you can not find good tomatoes, just do not bother to make the soup, the flavors won't be there)
2 medium size potatoes (these are there just to thicken the soup, you can substitute for some starch if you prefer, like arrowroot for example)
2 carrots
1 bell pepper
2 tbsp olive oil
1 onion
about 5 cups of water
salt to season
1 tbsp honey (you can add a bit more if the tomatoes acidity is very high, just taste the soup at the end)
savory, basil, marjoram or parsley
If you want to spice it up you can add chilly powder, just enough to taste.
How to make vegan tomato soup from scratch fast and easy
In a cooking pot, on a low heat add the olive oil and add the finely chopped onion, potatoes and carrots, both pealed and cut on really tiny peaces and the pepper. Stir for about 5 to 10 minutes.
Than add the pealed and chopped tomatoes and water in.
Season with salt and simmer for about 25 minutes, or until all the vegetables are ready cooked.
Blend until smooth, be careful here, especially if you use hand blender, you do not want tomato stains all over your kitchen or clothes.
At the end add all the herbs and honey, taste, adjust as needed and you will have one of the healthiest and tastiest tomato soups ever.
To make it more filling you can add a handful of pasta (use your blender first and return the soup to the stove), about 10 minutes before the soup is ready, cooked quinoa at the end, or roasted almonds right before you serve.
I can happily add a couple of spoons yogurt (ops, use vegan yogurt if you avoid dairy foods) to just about any soup, but I guess that is just me 🙂
This tomato soup is equally tasty warm and cold.