This healthy, baked Ratatouille recipe is inspired from the Disney's movie, it looks spectacular and is sooo tasty. You and your kids will love it, especially if you watch the movie first and you let them help arranging the vegetables 🙂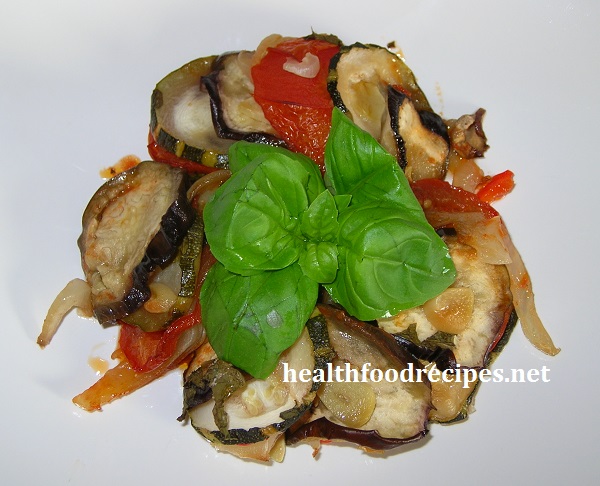 If you definitely do not like any of the vegetables in the list below, just omit them, or replace with vegetables that you prefer. A friend of mine who lived in France for a while told me once, that the traditional ratatouille recipe is actually a mix of all veggies that you find in the fridge, so do not feel bond to follow the exact recipe, be creative, and if you find it easier just make the dish on the stove top, in this case cut all the vegetables on cubes, however you will lose the movie's glamour.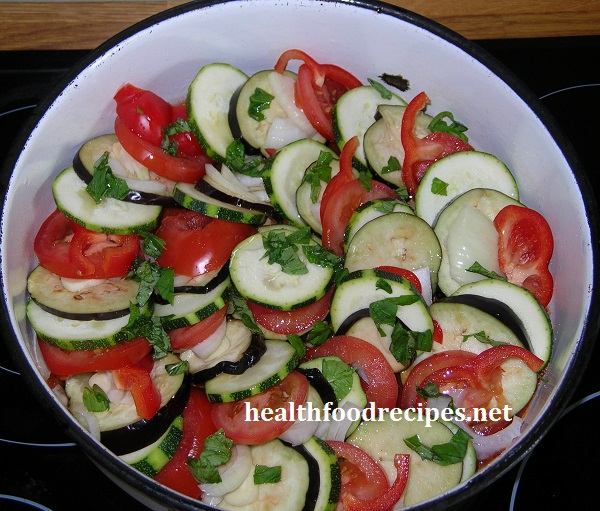 Here are the ingredients for this easy ratatouille.
3 tomatoes
1 onion, sliced
5 garlic cloves sliced
3 tablespoon olive oil
salt to taste
1 eggplant, sliced thinly
2 zucchini or squash, sliced
1 red bell pepper, cored and very thinly sliced
you can choose your favorite from the fresh basil, thyme, parsley or mint leaves, or mix them all
Start arranging the vegetables as shown on the picture going from the outer edge of the dish and working towards the center, overlapping the slices to make it look nice. Drizzle the vegetables with 3 tablespoons olive oil and season with salt. Sprinkle with the herbs. Bake in the preheated to 190 degrees C or 375 degrees F oven until vegetables are roasted and left on oil, almost no juices shall be left in the pot, it will take about an hour.
You can serve it warm or cold, as appetizer or a main dish, this Disney Ratatouille recipe is so versatile, that you can do almost everything with it. I like it on toast, or in my food box, and you can serve it even on a formal dinner or use it as a perfect excuse to make your kids eat more veggies 🙂