These amazingly healthy homemade popsicle recipes are so easy to make, you only need popsicle molds. Stuff your fridge with fruits and you are ready to go. Summer is coming and the best thing to do is to make it more fun and more healthy, fresh fruits in season are always a great way to celebrate the hot summer days, but you can make it even more exciting when making wonderful and most of all healthy ice pops.
These healthy popsicles will not only make you the most loved parent in the world, but also will keep your good conscious, as these are also really healthy, full with healthy nutrition, vitamins and fibers. Ask your doctor, I am sure she/he will strongly recommend you and your kids to eat a few of these homemade popsicles every day 🙂
You can easily supply yourself with similar to the molds that I use, (look at the picture). I am super happy with these Silicone Ice Pop Molds
they are very well made, easy to clean and extremely practical. You can of course use some other type too, there is a big variety out there and most of them can do a similar job.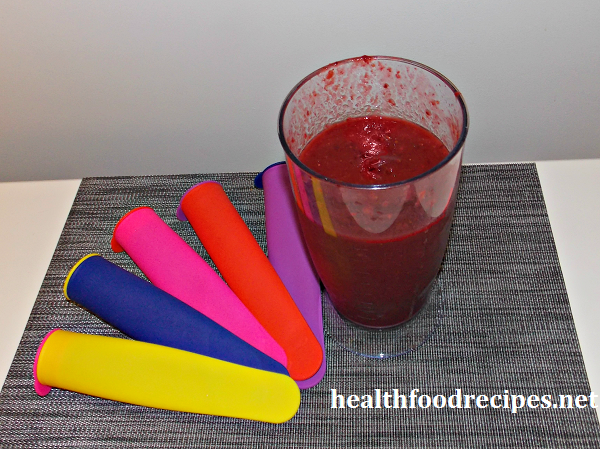 Fresh and frozen fruits and vegetables
Another important step is to fill the fridge with fruits and vegetables. And here comes the genius, yet simple idea – fill in the molds with fruit and veggie juices, by your and your kids choice or mix your own variations with juice and small fruit peaces inside, you can add some finely grated walnuts, pistachios or peanuts and add some coconut milk to the mixture, if not sweet enough, a little honey will do the trick, however, if you use naturally sweet fruits this will not be necessary.
I am sure you can easily create probably a dozen different fruit popsicle recipes right away, however, to make it easy for you, I included some really nice recipes that can be a source of inspiration for you. And you can create yourself many popsicles recipes for toddlers, just go through the easy to follow recipes below and you will have enough ideas for many more popsicle recipes.
How to make healthy popsicle recipes
For all recipes the procedure is quite similar, you wash, if needed core and peel the fruits or vegetables, cut in small cubes. Juice the fruits that you will use the juice from, (you can buy fresh juice from the store, not from concentrate to make it even easier) the rest of the fruit cut on small peaces or leave some bigger chunks here and there. Where the procedure differs, additional information is included.
In general, use the juice from your favorite fruits and combine or not with small chunks with other or the same fruits.
Making these easy healthy desserts is a real pleasure, I also like to make smoothies and freeze to make popsicle, I guess you can easily find the best approach to your family by experimenting a bit in the beginning. For creamier and smoother texture blend well with some bananas, avocados or coconut milk. Do not be afraid to try some savory versions too. Have you tasted your favorite green smoothie in frozen version? You might be now thinking of your favorite cocktail too, as I mentioned before, here are some endless options, you only need imagination and some creative spirit 🙂
Take risks, you might be surprised which taste will turn out to be your favorite, a fruit or vegetable that you do not care for in their usual condition might turn out great when frozen, freezing changes the taste a little bit, so you will need to try different versions to find the best for you.
Easy to make healthy popsicle recipes
Clean, cut, run in the blender and freeze.
Use safe popsicle molds
If you have small kids definitely pay attention to the type of molds that you purchase, to be BPA free is not enough. Choose a safe shape, without sharp or small peaces. You can also use small cups and add a not sharp stick as a holder, however this is not the safest option for small kids.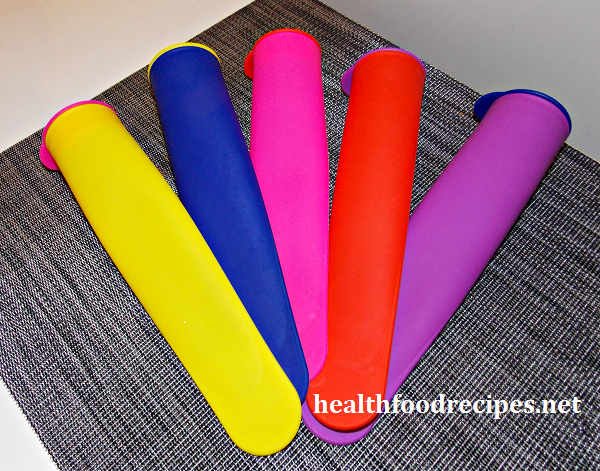 Healthy homemade popsicle recipes
Orange popsicle
1 cup carrot juice
1 cup pineapple juice
1 strawberries
Blend well and freeze in the molds, the color is like Pippi Longstocking's hair, so no problem naming it after her. You can pick some cool names to the versions you make. I am not going to be very detailed with the nutrition facts, most of the recipes contain fruits and veggies. What could be better than that? However here you have a delicious mix of vitamin A, C and beta carotene with 0 refined sugar.
Pomegranate, raspberries, banana is a great sweet and mild combination.
Very kids friendly 🙂
1 cup pomegranate juice
1 cup raspberries juice
1 banana
Green popsicle, you could name this one after Shrek 🙂
½ cucumber
3 kiwi fruits
1 pear
1 cup applejuice
2 tbsp lime juice
Coconut mango popsicle recipe
2 mango fruits
1 cup passion fruit juice
3 tbsp lemon juice
1 cup coconut milk
Yogurt berry ice pop
1 cup yogurt, plain or flavored
1 cup berries
1 cup grape juice
Banana, honeydew ice pop
1 honeydew
1 banana
Blend well. This is one of the sweetest Popsicles and will be loved by everyone with a sweet tooth, especially the smallest once.
Watermelon on stick
2 cups watermelon
1 cup strawberries
few mint leaves
Blend, add some mint leaves and freeze.
Water melon ice lolly
Just freeze water melon cubes on a stick, super good and ridiculously easy.
Banana ice lolly
Freeze half bananas and dip them in melted chocolate and chopped nuts.
Orange smoothie ice pops
1 cup yogurt
1 cup mango
2 oranges
½ banana
Strawberry banana smoothie in the form of a healthy popsicle recipe
1 cup yogurt
1 cup milk
½ banana
1,5 cup strawberries
Chocolate ice lolly
2 bananas
3 tbsp cacao powder
1 tbsp lemon juice
1 tsp vanilla extract
1 cup coconut milk
Make lemonade and freeze
squeeze the juice from 1 lemon
2 cups water
2 tsp honey dissolved well in the water
Mango Lassi ice pop recipe
2 mango fruits
1/2 tsp cardamom
2 cups yogurt
2 tbsp honey (optional)
4 mint leaves
Blend until smooth, you can thin it with some water, milk or fruit juice if you wish, before filling in the molds and freeze.
Apricot Yogurt Popsicles
1 cup yogurt
1 apricot
Green Smoothie Detox Pops
Freeze your favorite green smoothie or try this one:
1/4 cucumber
1/2 avocado
1/2 handful spinach, kale or other leafy green
4 mint leaves
1/2 celery stalk
1 kiwi
juice from half lemon
1 cup fresh apple juice
Tomato soup pops
Make super healthy tomato soup and freeze part of it in the ice pop molds.
Kiwi, pineapple ice pops
1 kiwi
1 cup pineapple juice
Cantaloupe and Cherry Popsicles
1/2 cantaloupe
1 cup cherries, pits removed
Ice tea popsicle recipes
Make your favorite ice tea and freeze it in the ice pop molds or try this version.
Make 2 cups herbal tea, there are so many options there, just pick one that you like. Sweeten with honey or other sweetener by your choice, add the juice from half a lemon. After it cools fill in the ice pop molds and freeze.
It is good to try some herbal versions as they do not turn bitter, ginger – lemon tea is also a great idea, but the small kids might find it too strong.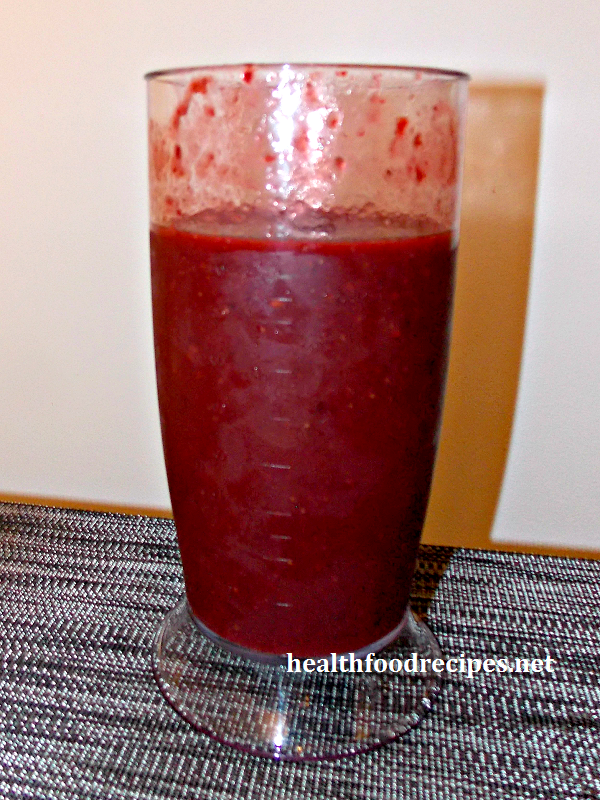 Tips for making healthy homemade popsicle recipes
There are endless possibilities when making healthy homemade popsicles. Be adventures and try different tastes and flavors.

To make a

multi

color popsicle, fill 1/3 of the mold with one color and freeze, add the next color and freeze and the third and finale color and freeze again. Keep the mold straight up each time to get beautifully layered lollipops. Use contrast colors for better look.

There is not really need for special molds, you can use almost every small cup that you have, just add a stick in the middle or serve with a dessert spoon.
To take the popsicle out of the molds, keep it for 2-3 second in hot water, or under running hot water.
The highest water content the harder the ice will be, denser fruits mean softer consistency.
When you take out the Popsicles from the molds, you can dip them quickly in melted chocolate and roll them in nuts or desiccated coconut.
Combine the making of the ice lollies with a tour in the forest. In the summer it is full with wild berries. Stuff the fridge in advance with all additional ingredients that you will need to easily make some ice pops when you come back.
Get the kids involved, they will be excited to make these and taste the result afterwards.
Use coconut water, or aloe vera juice as a base.
You can add some powdered fruits like acai, maca, goji, mulberry or other if you like, even protein powder if you wish.
Try some sorbet recipes too.
You can experiment with some peanut butter or cashew butter versions for more filling result. Mix them with coconut milk, cocoa powder, coffee or berries.
It takes about 6 to 7 hours the ice lollies they freeze completely.
Super healthy homemade popsicles
All these are real antioxidant bomb, the healthiest you can get. Oh, did I forgot to mention, they are low fat, low calories (the fruit versions), they are low fat, refined sugar free, good for your health, no additives, no unhealthy fats, most of them are vegan or can be easily converted to be, you can easily pronounce every line from the ingredients list. And now, finally you can happily make some of the popsicle recipes and serve the super healthy, easy to make homemade popsicles to yourself, you family, friends and kids.