This vegan risotto recipe or rice with vegetables if you prefer has some amazing flavors, it is one of the easiest recipes to make, and it is just sooo good and of course it is healthy. This recipe you can approach even if you have never cooked before, it is so simple and yet tasty.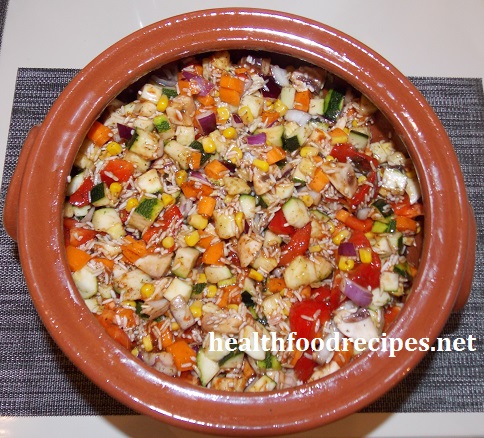 You need:
1 cup rice, your favorite type or if you prefer you can use risotto rice
1 red bell pepper
3 carrots
5 scallions
2 zucchini or squash
5-6 Button Mushrooms
1 green bell pepper
3 large tomatoes
1 cup canned corn
vegetable oil, 2 – 3 tbsp
3 cups hot water
herbs – parsley, dill, salt, black pepper, red pepper powder
Wash the rice and soak it in water while you are making the vegetables ready. You have to wash and chop into tiny pieces, add the herbs, salt, oil and rice.
Mix all well in a stoneware dish or other baking pot. Add the hot water and put in pre-heated oven 200 C or 390 Fahrenheit. It will be ready in an hour and you will be amazed of all the great flavors in this simple to make vegan risotto recipe.